If you are looking for a good balance of physical activity, relaxation, and enjoyment, a cycling vacation provides a fantastic experience and one of the best ways to reduce your risk of health problems associated with a sedentary lifestyle. You get several health benefits from cycling, from increased cardiovascular fitness, muscle and bone strength, and flexibility to better joint mobility, posture, and coordination, to lower stress and body fat levels.
Cycling is easy to fit into your Mallorca days. The island offers terrain to suit all skill levels. While novices can enjoy the more leisurely pace of flat or gentle climbing routes that take in the sweeping vistas of both natural and cultural treasures, serious cyclists get here the chance to tackle challenging climbs on the same routes as professional athletes. On an island of excellent roads and impressive coastline, the Serra Tramuntana offers most of the best riding in Mallorca. Its unique landscape landed it a spot on UNESCO's World Heritage list. The rugged mountain range covers the northwest side of the island of Mallorca. Standing tall at 1,445 meters, the range's principle peak Puig Major is the tallest in the Balearic Islands.
Puig de San Salvador
Puig de San Salvador, in eastern Mallorca, stands out for the beautiful views it offers for much of the way up, including the monuments you will find on this hillside, whether you take it on a route from Port de Pollença or Alcudià of Alaró.
Signposted, the climb – which starts about two kilometers east of Felanitx – is probably a bit steeper than many Mallorcan climbs – from the first bend, the average gradient sits at nearly 6% there are some tougher sections within this. Yet it is only 5 km long.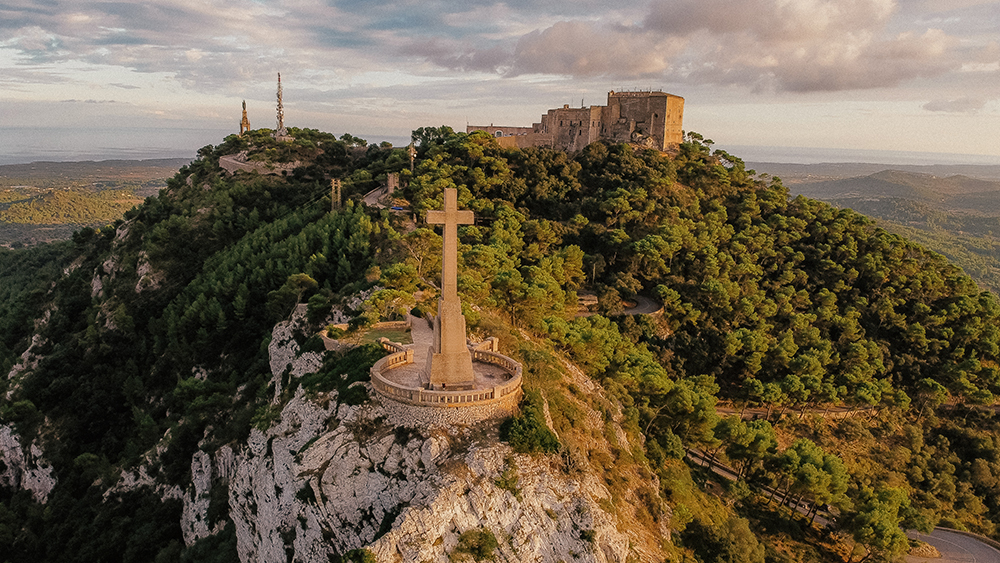 The first kilometer on the PMV-4011 that takes you to the summit is on a straight, open road between agricultural fields dotted with olive trees and grazing sheep.Ahead you can see the distinctive triangular shape of Puig de Sant Salvador rising from the flat plains around it. On the left-hand side, you can probably make out the San Salvador cross, and on the right, the imposing walls of the Monasterio San Salvador.
The religious monuments that populate the hillside also provide memorable sightseeing. These include the Creu de Sant Salvador (cross) about two-thirds of the way up, the Santuari de Sant Salvador (sanctuary of Sant Salvador) just before the summit, and the Ermita de Sant Salvador (monastery) at the top.
As you enter the sparse woodland, the road narrows, and the gradients pick up, and you continue to get great views over the countryside below, and up to the cross above your head, that's getting closer and closer. Once you make it to the top of this challenging but visually worthwhile, you can treat yourself to a well-deserved meal or a drink at the Bar San Salvador.
Done this or other rides? We would like to hear from you.