If driving is your thing, a novel way to enjoy Mallorca is behind the wheel of a classic car. The real art of driving, which has somehow been sacrificed at the altar of power steering, is taken to another level with the splendid natural environment which the island offers; a backdrop replete with architectural gems and wonders of nature, winding roads and rocky mountains, spellbinding views of the Mediterranean from majestic cliff-tops, and charming villages where history, culture, nature and – even today – traditional lifestyle all coexist in harmony
The island offers many interesting routes to explore. Inevitably, some of the most attractive to try out in a classic car would be in the Serra de Tramuntana. This spectacular mountain range, which runs nearly 90 kilometers along the west of the island, from north to south, offers unparalleled panoramic views and many exceptional routes either across the mountains or following the coastal road, taking in traditional villages such as Valldemossa, Deià, Sóller, Banyalbufar or Puigpunyent.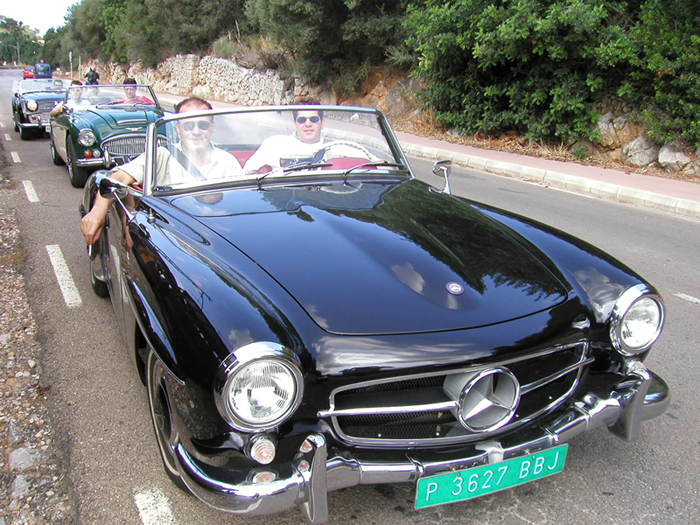 Another attractive route is through the Raiguer district, in central Mallorca, which features several interesting villages and authentic landscapes. The route takes you through Santa María, Alaró, Lloseta, Biniali, Biniagual, or Binissalem among others. This route is of special interest thanks to this being a wine-producing area, with several wineries on the way.
A route around the southeast of the island includes some marvelous natural scenery, prehistoric remains, medieval towers, abrupt cliffs, wonderful white sandy beaches, and a clear, turquoise sea. Each bend in the road will offer up all the beauty and charm of the real Mallorca. There is no better way to enjoy a tour of the island than behind the wheel of a classic car.
Our Picks