Whether you are a lover of the 'good life, an adventure seeker, or a sports fanatic, Mallorca will provide you with an ideal setting for a wide choice of activities, cultural sightseeing, and experiences either at land, in the air, or at sea. Fun, relaxation, adventure, and sensual pleasures await you. Whether you opt for walking, hiking, cycling, driving activities, or sailing, snorkeling, and scuba diving rest assured that the variety of landscapes the island has to offer will amaze you beyond all expectations.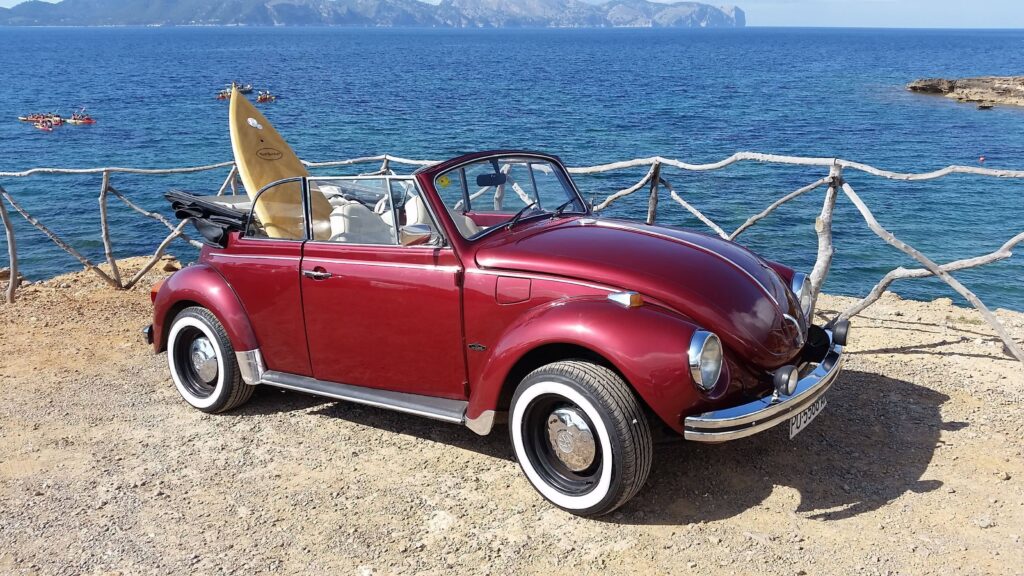 Going Classic
One of the most enjoyable ways to discover the beauty of Mallorca's scenic routes is driving a classic Austin Healey MKIII, a Triumph TR3, a Mercedes 280 Cabrio, or a Porsche model with the wind of elegant nostalgia ruffling your hair.Going Classic
Classic car driving is a true experience for all the senses with its combination of impressive sightseeing, gastronomic delights, and fun under the sun.

Island Hopping

Explore Mallorca by sea and discover the enchantment of the Mediterranean on a sailing vessel or a magnificent yacht. Whether for corporate entertainment, an escape with family and friends, or a honeymoon, a holiday on a fully crewed yacht is about total privacy, personal service, gourmet meals, absolute relaxation, and the total freedom to decide where to go and what to do.
Hit the Wave
It is an amazing alchemy of board design, tricks, and techniques from various sports like surfing, skateboarding, and wakeboarding. You ride on artificial waves created by multiple, high-energy pumps that project a three-inch layer of water over a surface that flows at between 20 and 30 miles per hour, with as much as 100,000 gallons of water a minute being propelled. Anyone with a good sense of body control and balance can ride. Experience must be gained to be able to perform tricks on the board. It is a relatively safe sport, however, one must use caution to avoid face and head injuries when falling off the board.
Underwater Adventure

No need to be a diver to experience the submarine world. Mallorca is one of the few locations in the world where you can explore what lies under the sea onboard your own sub-scooter. With minimal training anyone, even children can cruise the underwater world without the need to wear cumbersome dive equipment. Comfortably seated, you breathe freely and naturally in a transparent panoramic cupola. For your safety, a guide diver will accompany you during your excursion.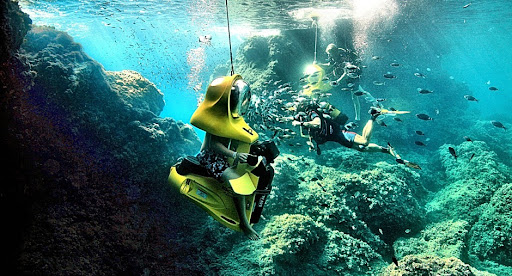 Heli Tours
One of the most spectacular sightseeing experiences and a guaranteed highlight of your trip to Mallorca. Enjoy the breathtaking views of the Tramuntana Mountain Range, track along the picturesque coastline passing by the homes of the many celebrities living in Mallorca or opt for a custom tour and select the places that you wish to discover.
Ballooning
Drift along with the breeze, as the hot-air balloon gently floats up in the sky, where all is quiet and peaceful and the view of Mallorca below is simply stunning.
On clear days you will be able to see the whole island and some of the neighboring islands too. Special flights can be arranged to national parks, above the almond blossom, or a romantic full moon trip

Gorge Walking

Gorge walking –also known as canyoning – takes you well off the beaten track and through the capricious formations that nature has sculpted, jumping into pools and scrambling over rocks and rushing water.
It can be cold and wet, however, the sense of adventure and achievement gained from completing the walk will make this experience well worthwhile.

Horse Riding

Horse riding is a fantastic way to discover and enjoy the forests and beaches of Mallorca. Horseback or carriage excursions are available all across the island.You also have the option of an "all in " riding holiday, where you live on a traditional 'finca' and take tours into the surrounding countryside…