In his own words: a happily artistic, suitably lawyeristic, modern renaissance man. His art reflects a mesmerizing personality and captivates with its fantastical imagery and often surreal reimaginings of the artist's many passions and personal experiences.
Prolific from an early age, De Lacy-Brown has exhibited widely across his home country of England and beyond. We ask him all about his work, his inspiration and his life.
Q. Nicholas, we love your very diverse and captivating artwork. How long have you been painting for?
A. I've been painting and drawing from a very young age. I started to take it seriously when I was around 16. I embarked on a huge canvas called Le Paris Formidable in which I painted the landscapes of Paris from all sorts of unusual and almost surreal representational aspects. I think it made my friends and family take my work a bit more seriously and they encouraged me to paint more, and to exhibit publicly. When I started to sell works, I became much more confidant and just continued to paint more and more.
Q. What have you been doing since?
A. I had two solo exhibitions in my home town of Sussex in 2000 and 2006, and then had my first show in London in 2008 in Mayfair, followed by another in Belgravia. I exhibited as part of a group of artists in Paris, New York, Copenhagen and variously in Marbella (where my parents have a house). I also won the International Young Artist Prize at the Festival Internacional de Arte Marbella (FIAM) in 2010 and was given a solo exhibition at the prestigious Houses of Art Gallery. At the moment I'm concentrating on a large body of work which I hope to exhibit both in London and in Europe.
Q. Who, if anyone, is your artistic inspiration?
A. I'm hugely inspired by Spanish art which is so emotionally raw, colourful and impactful. I adore the surrealist landscapes and forms of Salvidor Dali who was an undisputed genius. I've also been inspired by the languid figures and exceptional colours and loose brushwork of El Greco. Beyond Spain, I adore the work of Frida Kahlo – especially her representation of pain which really inspired me when I had my own very bad road traffic accident in 2008 and painted a whole series of canvases based on my painful convalescence. I also adore the naïve jungle representations of French post-impressionist Henri Rousseau. I especially love the fact that both Kahlo and Rousseau are, like me, self-trained artists. Somehow that gives them an unrefined emotional intensity which I think can be lacking from the contrived works of artists who have had too much training.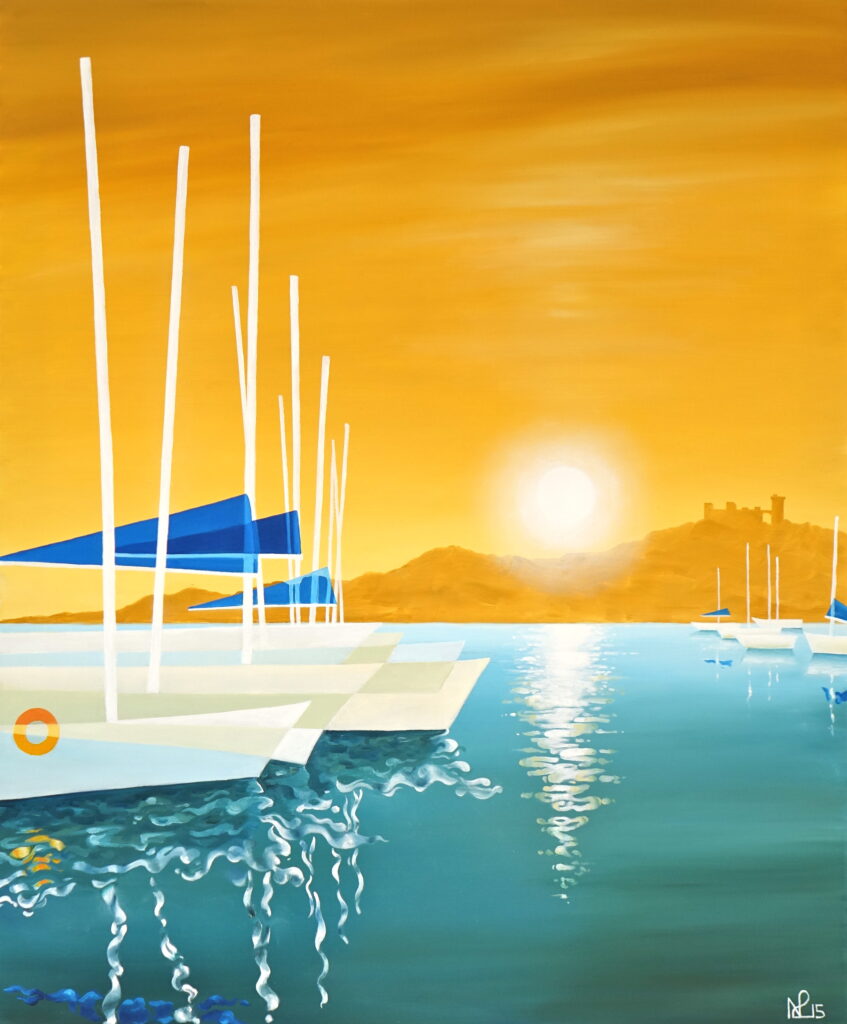 Q. As well as being an artist, you're also a lawyer (in London) and a successful writer and blogger, when are you happiest?
A. I'm always at my happiest when I'm being creative, whether that be through painting, sketching, photography (which I share through my blog) or writing. The best thing about writing and blogging is that it gives me the platform to share every aspect of my creativity with the world. It's so fulfilling to receive the kind comments and responses from my worldwide audience. To an extent, I can be intellectually creative as a lawyer too, and that prospect thrills me. Law is a hard job, but I find that it really satisfies the inquisitive side of personality. I also enjoy the prestige that comes with the job.
Q. Are there any more talents we should know of?
A. I adore cooking (and eating!) – I love innovative cuisine, food that pushes boundaries and fuses unusual flavours. I also take great pride in presenting my food elegantly like an artistic installation. I'm also a very keen photographer, and designer, both of graphic work and interiors.
Q. In your profile you told us your art represented your frustration. Frustration at what?
A. Time. There is never enough time, and this frustration is amplified by the fact that I am running two careers (both legal and artistic) and find that I never have enough time to find proper fulfillment in both. The greatest frustration is when I visit a stunning place like Mallorca, and my mind is literally flooded with ideas for paintings. And yet because of the constraints of time, probably only 1% of those ideas will ever be realised. Time is such a burden – I would miss out on sleep if I could!
Q. It's clear that Spain has been a big influence in your work. Why is that?
A. Asides from Spain's instantly inspirational rich art history, it's diverse historical and ethnic profile is a powerful motivation. I cannot help but be inspired by its architectural diversity for example, from the exquisite Moorish architecture of the South to the eccentric modernist creations of the North. I adore Spain's evocative and spiritual traditions, from the expressive intensity of flamenco to the solemnity of Easter's Semana Santa processions, and I am completely seduced by the country's spectacularly diverse landscapes. Mallorca's landscapes, for example, cannot fail to inspire – the exquisite cerulean blue seas and craggy rocky coves, the blossoming citrus and almond trees and the ragged mountains – they are a gift to artists.
Q. Can we expect Mallorca to appear in much of your work?
A. You can indeed. I am currently working on a complex autobiographical work which is set on a vast rocky beach in Mallorca, and am in the process of producing a number of print works which have the island as their inspiration. I also hope to be exhibiting in Mallorca soon. Thank you very much Nicholas for this insightful interview. You can see more of Nicholas' works on his profile or through his website.