Made in Mallorca products make great gifts. Crafts are an important part of Mallorca's cultural heritage and shopping in Mallorca is a journey in time and space through the civilization and cultures that have come across its history, from the wide range of traditional craft products such as glass, ceramics, embroidery, silverware, jewelry, and fabrics, to the production of leather, shoes, and pearls, one of the most popular buys locally as well as internationally.
Leather Products
The high quality and the innovative design of leather bags, garments, and footwear have made Mallorca's brands famous all over the world.
The Raiguer area in general, and Inca in particular, have long been the center of the leather and shoe crafts. The shoemakers' guilds have existed ever since the Catalan conquest of the island in the 13th century and are among the oldest in Majorca.
Visitors can discover the artisan and industrial tradition behind the Island's world-renown brands and designs at the many factories' headquarters.
Inca's weekly market on Thursdays (one of the largest on the island) provides for the opportunity to buy leather goods at knock-down prices.
To find out about other markets in Mallorca read our article: Today is Market Day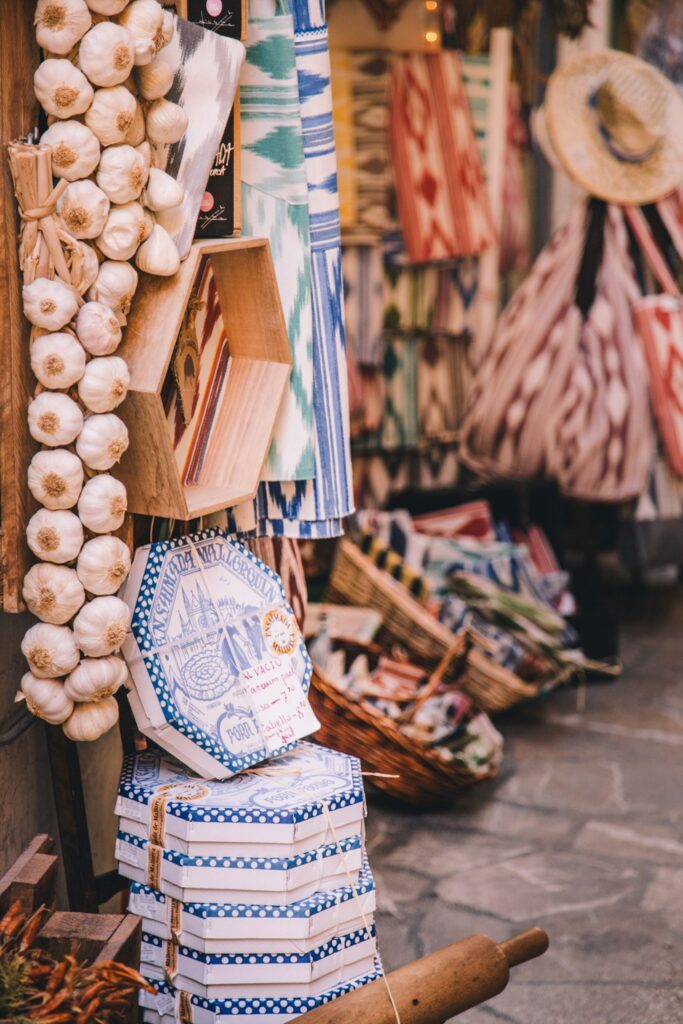 Gastronomy · Leather Products · Mallorcan Pearls · Flor d'Ametler · Pottery · Glass · Ceramics · Art and more …
Made in Mallorca
Pearls
Majorca owes its success in artificial pearls manufacturing to Friedrich Hugo Heusch, a German living in Barcelona, who began to imitate nature in a small way and – in 1902 – opened the first factories in Felanitx and Manacor to meet the increasing demand from stores and jewelers in London, Berlin, Rome, and Paris.
'Mallorcan pearls' are prized for their long-lasting natural appearance. They feel like real pearls on the skin, cool but pleasant, and unlike cheap plastic pearls, they warm to body temperature.
Neither make-up, perfume, heat nor cold affects them, and they are so hard that their shape is unalterable. Unlike natural oyster pearls that take a few years and to grow and come with irregularities and blemishes beyond man's control, it takes only a few weeks to produce a Mallorca pearl of perfect size and shape.
Glassware
The tradition of glass blowing in Majorca dates back to 1719 when a businessman's son of the Gordiola family – who had mastered the secrets of the Venetian tradition – opened the first furnace. Nowadays, beautiful local handicrafts can be found all over the world.
The process of glassblowing is a spectacle of great beauty requiring great skills experience. The wonderful, unique pieces (lamps, elegant and ornamented vases, bottles, glasses, etc.) stand out for their delicate shapes and exclusive, precious colors (turquoise blue, green, amethyst, purple, topaz) and are considered genuine glass jewels of ancient art.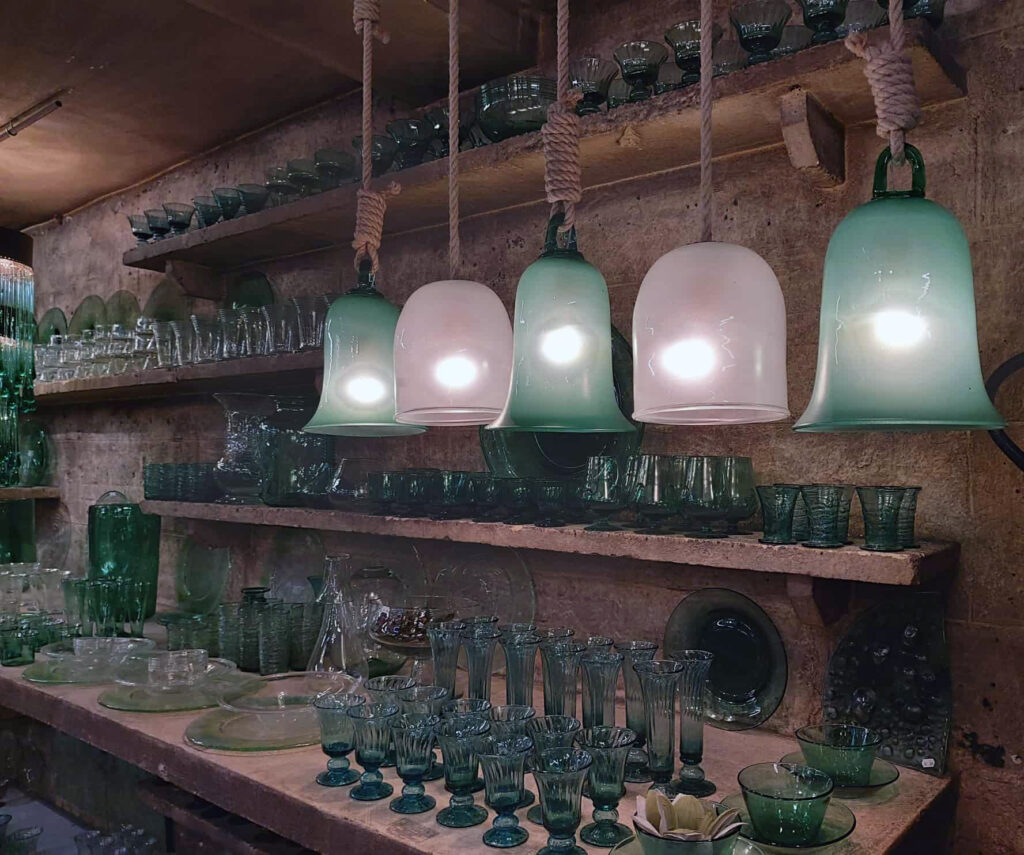 Craft lovers can watch the ancestral art of glassblowing at the The Gordiola Glass Museum in Algaida, the first and only glass museum in Mallorca.
Pottery and Ceramics
Pottery in Mallorca is a craft that has its roots in the Pretalaiotic period of the Neolithic age.
The pottery found in archaeological sites on the island indicates that primitive people already made cooking utensils with an extraordinary sense of shape and aesthetics. Mallorca was the first place in Europe where the Hispanic-Moorish pottery was developed. It was exported to Sicily and the rest of Italy where it was so successful that it ended up losing its Arab influence in favor of European aesthetics. It gave rise to the 'Mayolica' pottery.
The main areas specialized in this craft is Marratxí, there are large red clay deposits outside Pòrtol and the areas of Alaró, Consell, Felanitx, Manacor, and Pollença.
Read also 10 Must visit Towns and Villages in Mallorca
The most typical ceramic piece is the siurell, a handmade figure that is whitewashed and decorated with red and green stripes. A whistle is attached to the bottom of the figure, representing several different characters and animals.
Other typical items are pots, red-brown plates, wine jars called "pitxers", painted tiles, nativity scenes, and "greixoneres", a type of casserole that is essential to cook Mallorcan traditional dishes. Artists sell their work in their own shops and on handicraft markets around the island. The most important market is held in Plaza Major in Palma.
Flor d'Ametler
A scent is not only creative of memory, it also magically evokes the scene of its origin. When it comes to Mallorca, nothing is more emotionally powerful than Flord'Ametler, a fragrance produced by hand following a closely guarded family secret, that evokes the distinctive scent of the blossoming almond trees.
The flowers, picked by hand when blossoming, are soaked for three to four years to optimize the extraction of their essence. Its production is limited, so look for the flower inside the bottle. Only the authentic perfume has that, copies won't!
Read also our article: Best Gifts for Foodies Made in Mallorca
Made in Mallorca Footwear
If you are shopping for climbing and hiking boots LLoseta is the place to be. Here you will find Mallorcan hikers' favorite addresses and brands. Shop instead in Campanet and Consell for the traditional Mallorcan espadrilles – "espardenyes" – handmade with natural products: raffia, flax, etc following a century-old tradition.