The modern game of golf originated in Scotland in the 15th century. However, in 1457 King James II of Scotland declared the playing of the sport to be illegal, preferring people to practice their archery skills instead.
Luckily for us, golf managed to prevail and today there are estimated to be over 35,100 golf courses throughout the world – the majority being the USA and the highest number per capita in Scotland. Over the years golf has become so popular in fact that it is one of only two sports, along with javelin throwing, that has been played on the moon.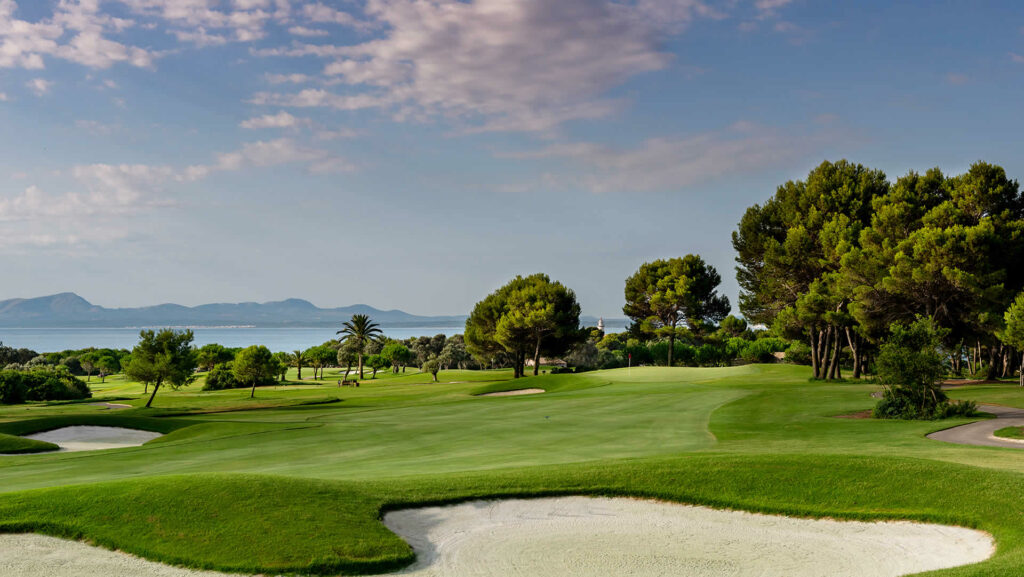 Imagine though, a place where you can play on world-class courses all year round – with mild winters and perfectly groomed courses framed by stunning sea and mountain vistas – this is what you'll find on a golf holiday to Mallorca.
It is even said that golf balls travel significantly further on hot days – and luckily Mallorca has lots of those. The picturesque Balearic Island has in fact over 20 courses with varying degrees of difficulty and challenges.
Alcanada
For a challenging round with stunning sea views, you can't beat Alcanada, located near the northern coast of the island near Alcudia. This 18-hole course leads you around pine trees and olive groves and even has vistas of Alacanda Island's picturesque lighthouse. It's open all year round.
One of the most recent and most talked-about courses on the island is Son Gual, located just 15-minutes from the capital of Palma. Designed by Thomas Himmel, it's also one of the best, and Golf World ranked it among the top 100 European courses.

Pula Golf Course
Another of Mallorca's best courses is Pula Golf, located on the east side of the island. The course's facilities are so great in fact that it has been chosen as one of the PGA Tour selected courses. This is Mallorca's most challenging course too, so it's the perfect place for those who want to push themselves to be the very best they can.
Son Servera Golf Course
For truly beautiful coastline views of the Costa de Los Pinos, why not try a round at Son Servera, which has just been transformed from a nine-hole to an 18-hole course? Or there's the picturesque Son Termes situated just north of Palma and surrounded by a patchwork of jade green mountains. It's an open and friendly course, which uses the island's natural terrain to its advantage.
Golf d'Andratx
One of the most spectacular and most challenging courses on the island, Golf Andratx winds its way through some breathtaking landscape adorned with old olive groves, almond trees, and ancient Mallorca stone walls. Hole 6, 609 meters from the championship tee, is the longest hole in Spain and one all golfers look forward to playing. It winds uphill through trees and water hazards and is fraught with danger. The tee shot from hole 8, shortly afterward, offers a spectacular view of the bay in Camp de Mar and the hills around it.

Son Quint, Son Vida, Son Muntaner
If you want to try out three different courses during your stay, but don't want to travel far between them, then check out Son Quint, Son Vida, and Son Muntaner, which are also within striking distance of Palma. For legendary status and the oldest course on the island head to Son Vida, which has twice been the venue for the European Tour. Son Quint on the other hand is the newest course on the island and provides a modern and elegant design, while Son Muntaner is both demanding and technical – pushing you to your limits.
Golf Park Puntiró
And if you've only got a short time in which to fit in a round of golf, then you can do no better than Golf Park Puntiro. Situated just east of Palma, it's close to the airport and also provides a luggage room so that guests can fit in a quick game upon arrival or departure.
Whichever type, of course, you choose to play on during your Majorca holiday, you can guarantee excellent facilities and a great round. You may even get in enough practice to qualify for the Olympics.