Unconventional and off the beaten tourist path, Sa Bassa Blanca Museum was founded in 1993 by artists and collectors Ben Jakober and Yannick Vu and philanthropist Georges Coulon Karlweis to bring art, nature, and architecture into people's lives and foster the creative development of children.
Located in a spectacular geographical enclave near Alcudia the Sa Bassa Blanca Museum –  Yannick & Ben Jakober Foundation offers a unique sensory experience. The museum received the first visits of groups connected to the world of art and culture in 1995 and opened permanently to the public in January 2001. Since its inception, it has continuously evolved and improved visitors' experience.
Sa Bassa Blanca Museum
Sa Bassa Blanca consists of an open-air exhibition, "the Zoo," an area with giant granite animals inspired by representations of ancient civilization, and galleries with a modern and contemporary art collection. Visits to "Nins" space, the rose garden, and Sculpture Park, so characteristic of the Foundation, combine the enjoyment of art with nature.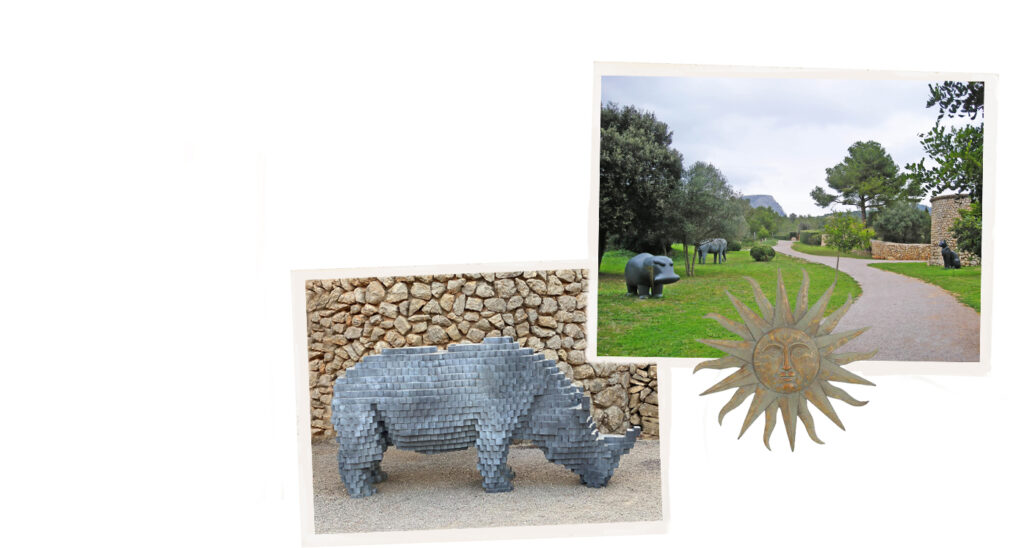 The works from the Nins collection and Domenico Gnoli have traveled to other museums and exhibition halls, both nationally and internationally, forming an exhibition in itself or forming part of more extensive exhibitions with specific works.
During its young history, the heritage of the Foundation has been recognized on numerous occasions. The Nins collection was declared catalogued as Heritage of the Balearic Islands, and the "Mudejar" coffered Ceiling as Heritage of "Great Cultural interest". The Foundation has also received awards and recognitions like the Special Mention of the European Union Prize for Cultural Heritage / Europa Nostra Awards (2009), the Gold Medal of the Town of Alcudia (2008) or the Gold Plate of the Majorca Tourism Development Foundation (2008), the award in Touristic Experience (2017), among many others.
OPENING HOURS
Wednesday to Saturday : from 10am to 6pm. The exhibition galleries close from 2pm to 3pm, but the Sculpture park and the Rose Garden are open. The galleries and the ticket office close at 5:30 pm
Sunday : from 10am to 3pm. The galleries and ticket office close at 2:30 pm
Monday and Tuesday : closed
ENTRANCE FEES
Sculpture Park and Rose Garden: 5 €
General entrance fee: Adults: 10 €; seniors 65 and over: 8 €; youths 7 to 17: 7 €; children under 6: free. Includes: NINS gallery, Sokrates space, Sculpture Park and Rose Garden.
House Hassan Fathy (guided tour, by appointment only): adults 25 €; Seniors 65 and over: 20 €; youths 7 to 17: 10 € .