Boasting a plethora of beautiful natural attractions, fauna, and over three hundred recorded species of birds, Mallorca provides a nature-themed playground for active adventures and a scenic backdrop for relaxing pleasures. Favorite itineraries to discover the best of Mallorca above and below include biking, hiking, boat trips, and underwater experiences. Let me just share four excursions you should not miss when visiting this beautiful Mediterranean island.
1. Mondrago
A fascinating variety of plants and animals make their home in this protected area – located on Mallorca's southeast coast in the municipal district of Santanyi – covering a total surface of 785 hectares. The area is composed of Na Batia, Sa Rota des Pi, torrent de ses Fonts n'Alis, S'Amarador reservoir, Calo d'en Borgit beach, S'Amarador beach and playa Mondrago. The reserve is made up of open ravines, streams, beaches coastal cliffs, and small dune systems. Vegetation includes the white pine, the juniper, and wild olive bush, and botanical species of great ecological interest such as lentiscus, sea fennel, sea lily as well as animal life including amphibians, reptiles, and a great variety of birds.
Visitors can decide on their own itinerary within the park, enjoying a tour through the different ecosystems either by foot or by bicycle. The park has two entrances: the road from Santanyí to s'Alqueria Blanca, and the road from Santanyí to Cala Figuera. And is open every day from 9 am to 4 pm.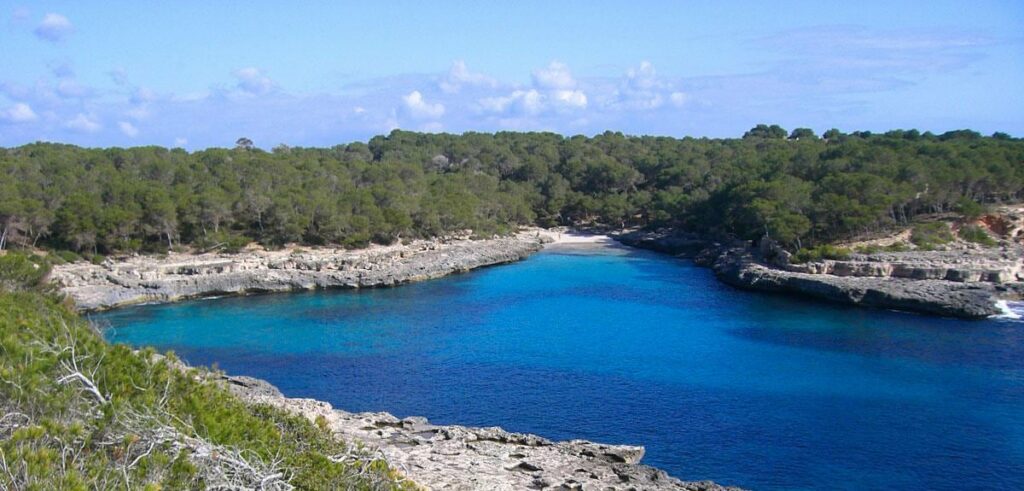 2. S´ Albufera
Located between Muro and Can Picafort, facing the bay of Alcudia and separated from the sea by a belt of dunes, S'Albufera is the largest wetland area in the Balearic Islands, with a surface of nearly 1.700hectares.
This stunningly beautiful area, commonly missed off the tourist trail, became a protected reserve in 1988 and houses several species of plants, fish, and animals. The ecological richness of the area is based on water and habitats vary according to their distance from the sea. The reserve is best known for birds and attracts a huge number of ornithologists who every year travel from across Spain and Europe to marvel at the richness of wildlife offered. Today, 271 different species of birds can be identified but what you see is often down to being in the right place at the right time. Spring and autumn are the best times to visit Mallard ducks, swallows, and nightingales are found in abundance throughout the area, whilst the fish eagle, common kestrel, and the falcon are frequent visitors.
For those who want to ride the currents, explore a wreck or venture into greater depths, Mallorca offers some of the most relaxed diving environments.
3. Cabrera
A naturally blessed area of 30km², surrounded by incredibly blue and transparent waters and rich in wildlife and plants, Cabrera was declared a National Park in 1991. It is famous for its wildlife and the several different species of lizards and birds that inhabit the area.
There are organized daily boat excursions to Cabrera from March to October; the trip takes about an hour. You can also visit with your own yacht, but you must get permission in advance as access is limited to only a few ships at a time. Once you arrive you can only walk on two short paths marked on the island, one path leads to the castle located on a cliff, the other takes you to two idyllic beaches: a sandy one and the other with rock pools. There is also the offer of a free excursion offered by the National Park staff. Visits include: the castle of Cabrera, the French POW monument, and the National Park Museum of Cabrera. On the way back, the boat stops off at the "Blue Grotto" for a swim.
4. Malgrats
Just opposite the bay of Santa Ponsa, at just five minutes boat journey from its marina, there are the two islets known by the name of ' Islas Malgrat'. An area of about 100 hectares, they have recently been made into a marine reserve because of their high ecological and fishing value to the region and the diversity of animal habitats and communities.
Here visitors will find a unique site to enjoy nature at its best through activities such as scuba-diving, kayaking, or sailing.The wreck of a 133-meter long vessel that sank in 2007 and that lies in the waters surrounding the islands, has formed an artificial reef that fosters sea life in the area.
We'd like to invite you to explore Mallorca and enjoy its many healthy and fun activities and amazing nature.
Our Picks