Rest and recuperate with a glorious spa treatment or invigorate and refresh your senses at a Hammam with this definitive list of the finest wellness retreats in Mallorca.
Cal Reiet – Escape, explore, experience, connect
The concept of Cal Reiet is gloriously simple: creating a holistic wellbeing retreat for the communion of mind, body, and spirit.
Set amidst lush Mediterranean gardens in an elegant 19th-century country house, Cal Reiet feels more like a home away from home than a hotel or even a vacation rental.
Health-conscious culinary workshops, yoga and meditation classes, fitness and detox programs, signature therapeutic massages, and beauty treatments are all part of Cal Reiet's unique experience.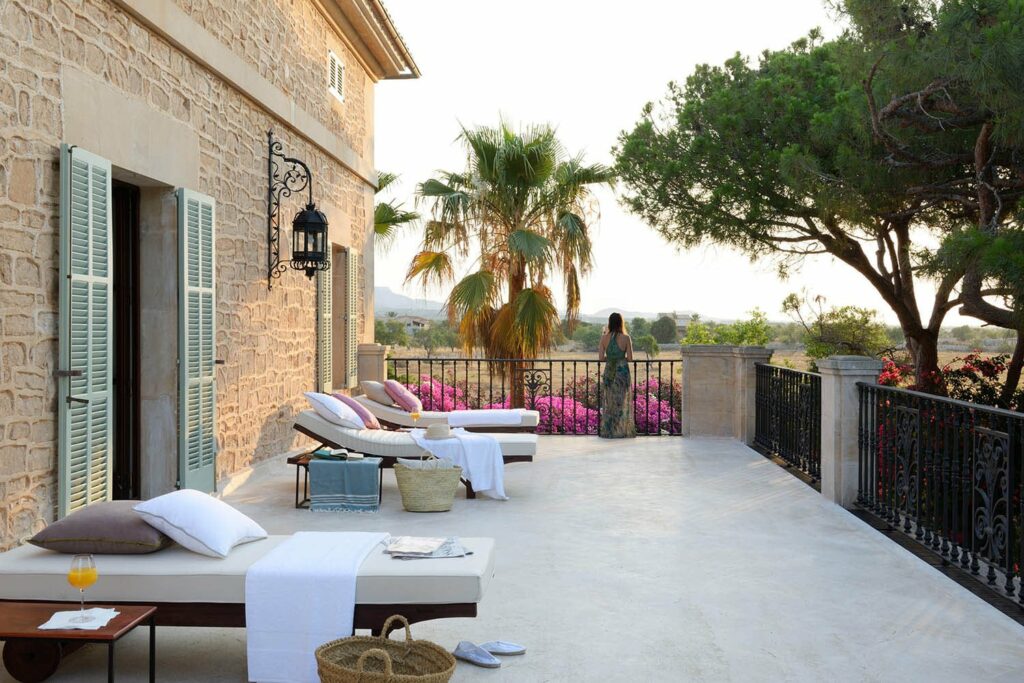 St. Regis Mardavall – A wellness oasis overlooking the Mediterranean
Enjoy signature services, idyllic settings, and elegantly crafted treatments at one of Europe's largest spas. With its 4700m² and over 60 revitalizing treatments to choose from designed to be individually personalized and tailored to every guests' needs, the Arabella spa at the St. Regis Mardavall Mallorca Resort offers a fascinating experience combining the best of traditional and modern, Far Eastern and Western therapies.
Eleven treatment rooms, Jacuzzi, dry sauna, Egyptian brine bath, hydro pool, jet shower, ice cave, and fitness center, a Centre of Traditional Chinese Medicine led by Dr. Lu Zhang & Dr. Jieren Tang, and a state-of-the-art indoor fitness center complete the wellness experience at this fantastic Mallorcan resort.
Jumeirah Hotel – Between the sea and the mountains
With a surface of more than 2200 sqm flooded with natural daylight, the award-winning Thalise Spa draws on its breathtaking setting – the thermal circuit opens out onto open-air terraces with views of the Tramuntana mountains and the Mediterranean – spacious treatment suites and natural product-based treatments from the leading skincare brand Sodashi.
Aside from an incredible menu of massages and facials, the Spa offers a five-day detox program designed to break down accumulated toxins and treat cellulite and fluid retention, customized therapies, and yoga classes.
Facilities include an open-air heated hydro pool, hammam, salt steam bath, and ice fountain.
Fontsanta Hotel – The secret lies in the water
Travelers from all over the world come to Fontsanta to take the waters. An address like no other in the Balearic Islands, the hotel is renowned for its legendary spring waters, whose discovery goes back to the Ancient Roman Era and their healing properties.
Emerging from the underground, these waters acquire rich mineral elements as they rise in shallow aquifers and are known to improve skin condition, blood, and lymphatic circulation.
However, even people who aren't seeking a cure like to tout this countryside retreat for its charm and the beautiful beaches in this area.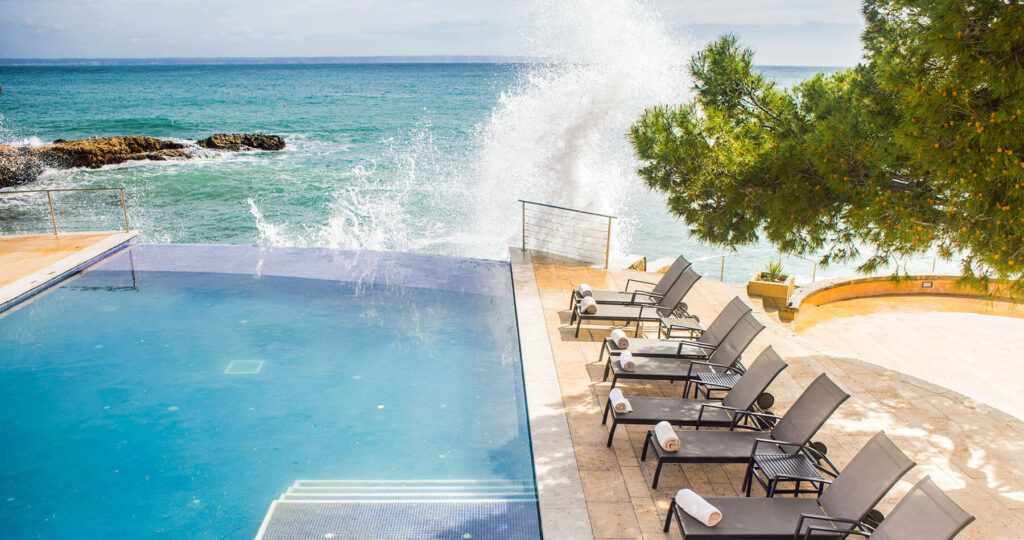 Hospes Maricel – Between the sky and the sea
The essence of the SPA Bodyna Maricel is reflected by the elegant and tranquil ambiance that captures the serene beauty of its Mediterranean location. Whether you want a relaxing massage or one of the many holistic therapies or beauty treatments available, a day spent in Spa Bodyna at Hotel Maricel is a blissful experience, where skilled therapists take guests on a sensory journey across the world.
The spa facilities include unique spaces for treatments that blend design with nature: an area set in the natural caves by the waves and a spacious and innovative building where you can also find a Fitness room, Pilates room, relaxation lounges, indoor and outdoor swimming pool, saunas, steam baths, medical office, terrace-solarium. On the SPA menu by leading Spa brand Cinq Mondes, you will find a range of signature relaxing and results-driven treatments that draw on world-inspired therapies and philosophy. Bodyna Spa is a place of well-being that will restore your spirit, calm your mind and relax your body.